Stamp
Index

Famous Norwegian Women on Stamps
QUEEN MAUD (1869-1938)

Maud Charlotte Mary Victoria was born in England as the youngest daughter of King Edward VII and Queen Alexandra of Britain.

In 1896 she married Prince Carl of Denmark. And in 1905, after Carl was offered the Norwegian Crown (and took the name King Haakon VII) she became Queen of Norway and they moved to Oslo.

We can see their arrival on the red stamp. The following year, the coronation of King Haakon and Queen Maud took place in the Nidaros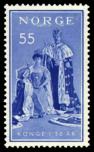 Cathedral in Trondheim. (See the two blue stamps). Without big publicity Queen Maud carried out a lot of charity work in her new country and "Queen Maud's Relief Foundation" carries her name.

The same does the "Norwegian" sector of Antarctic: Queen Maud Land. Her monument is placed outside the Royal Palace in Oslo. In 1938, during a stay at her estate in England, Appleton House, she died 69 years old. Her only child was Prince Olav, who later became King Olav V.