Stamp
List

Famous Finnish Women on Stamps
ANNIKA RIMALA (1936-)
Designer of clothes in Marimekko Corporation 1959-82. Marimekko is a world famous Finnish textile and clothing company founded in 1951. In 1967 Annika was elected one of the 10 designers in the world who had influenced fashion most.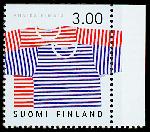 In that time Marimekko was due to her on the top in the world of fashion. Annika supported ideas of anonymous design which means that you buy clothes because they are nice and comfortable, not because they are in fashion or because of the name of the designer. Her aim as a designer was to create a product which was highly functional and practical, timeless, long-lasting quality, fit for all sizes and ages and as a mass product not too expensive. In 1968 the striped, cotton "Tasaraita" knitwear (depicted on the stamp) was born designed by Annika for Marimekko. After she left Marimekko she has run her own shop "Santtu".