The long-awaited all-new ATA Handbook 138, "World Railways Philatelic," was released June 2000. This new, expanded version of the Handbook was compiled by Norman E. Wright, Sr., a CJRR Unit governor who has been providing annual supplements to the ATA's 1996 HB-130 for the past several years. The new handbook contains upgrades of many listings and features of previous editions, corrections and additions, new issues released worldwide through 1999, plus a number of other new features for users.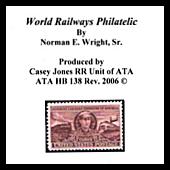 The 700-page Handbook, in an 8½ x 11" loose-leaf format (to allow insertion and addition of annual updates) contains more than 25,000 listings and more than 500 illustrated stamps of railway interest. Many previously unlisted and/or unknown varieties also have been added, as well as a considerable expansion in scope from previous ATA railways handbooks. The new Handbook 138 may be ordered directly from the American Topical Association, P.O. Box 57, Arlington, TX 76004-0057 U.S.A. (americantopical@msn.com). Dealers may inquire. ATA accepts Master Card and Visa.
Since publication of the "basic" Handbook 138 in 2000, annual paper supplements were ssued for years 2001-2005. These also are available from the ATA. There are also four CD versions. The 2006 CD contains the complete contents of ATA Handbook 138 and all Supplements in both Microsoft Word and PDF formats, as well as extensive re-formatting and new "global" search functions.