Stamp
List

Famous Finnish Women on Stamps
TOVE JANSSON (1914-)
The Moomins are some friendly figures who live in a forest in the idyllic Moomin valley.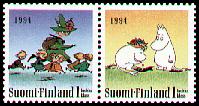 The way they meet the real problems of the world (fear, solitude, freedom, dependence) is originally spiced with witty humor and all the time characterized by deep humanity with great tolerance of difference. Her books which originally were written in Swedish has been translated into 33 languages. Tove Jansson says about her Moomin books: «I have not wished to philosophize or educate anyone but have amused principally myself with my stories». The stamps are issued in a booklet with 4 pairs.