Stamp
List

Famous Finnish Women on Stamps
TOVE JANSSON (1914-)
The works about the Moomins has made her famous world wide.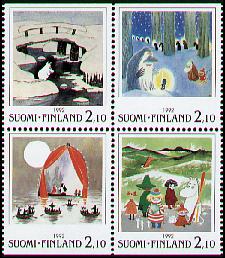 She made her debut as author in 1945, and in the next 25 years she created a lot of novels, picture books and comics about them. Their originality and deep humanity have been touching people all over the world in all ages. Tove Marika Jansson is however also a prominent painter and prose-writer. Among others she has written an autobiography "The Sculptor's Daughter" (1968). Her artistic works can be seen around Finland, for example the frescoes on the basement walls of the Helsinki City Hall (1947). She has received about 50 literature prices and other artistic awards. These stamps were issued in a booklet.